What are the best foods and drinks for our teeth?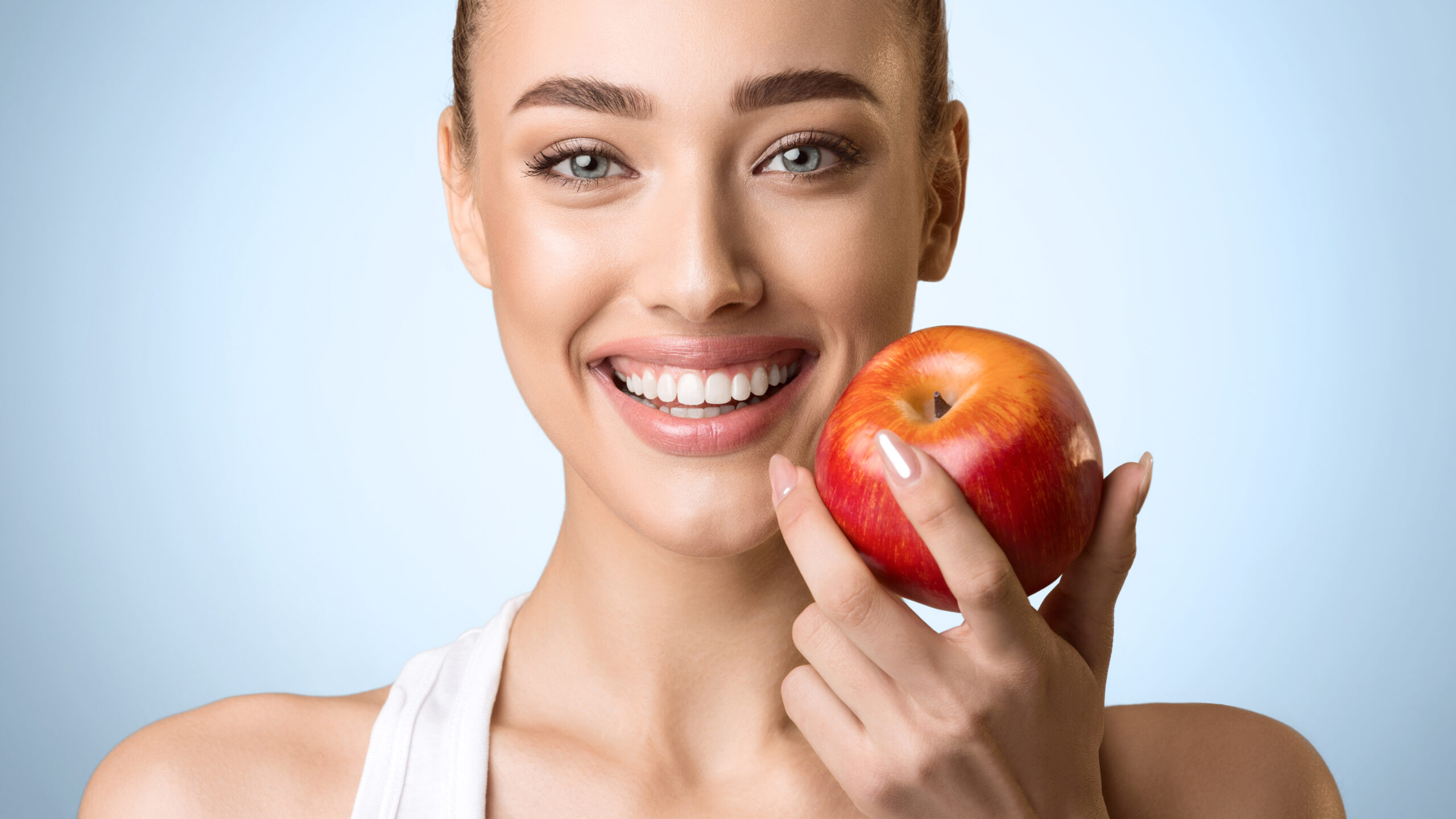 What are the best foods and drinks for our teeth?
The human body is inhabited by millions of microbes that can be found on your skin, eyes, nose and mouth. These bacteria are known as microbiota and are important in keeping us safe. They provide a layer of protection against harmful bacteria and aid in digestion. It is important to know that although microbiota are there to protect us, things can change if we change the environment they live in. This is most important for the bacteria that commonly live in our mouths.
Dental plaque is a very thin layer of bacteria, among other things that adhere to our teeth, and is formed constantly. When we eat, we are not only feeding ourselves but are also feeding the bacteria that live in our mouths. The bacteria ingest the starchy foods or sugars found in our food and release acids as a by-product. Overtime, if left to their own accord and without proper oral hygiene, these bacteria can cause tooth decay or gum disease.
It all starts with what we eat. Foods that are high in sugar or starch are generally going to result in more acid by-products from the bacteria that live in plaque. Studies have assessed the pH changes in our mouths during and after eating over the course of a day. The results showed that the bacteria in dental plaque will start to metabolise your sugars and starch within 20 minutes of eating, leaving a more acidic environment in the mouth. Long term exposure to acid can lead to the destruction of your hard enamel causing tooth decay and even gum inflammation.
The acid levels in our mouths after consuming foods that are high in sugars can reach a maximum within only 20 minutes. Your saliva serves as a protective mechanism in the mouth to help neutralise the acid, this usually takes about 30 to 60 minutes for this to occur. It is important to note that everyone is different, and this may not happen as quickly for some. Most commonly, individuals taking medications tend to have a lower saliva flow, hence it may take longer for their mouths to be restored to a neutral 'normal' value.
There are many foods that invite this acidic process to cause tooth decay, while there are others that help prevent plaque build-up. We've compiled a list of foods that we recommend, and foods that should only be consumed as a special treat!
The good foods:
Fruit and vegetables
Fruit and vegetables are great as they are natural teeth cleaners. This is because they are crunchy and contain lots of water to help remove the plaque on your teeth. They also contain good minerals and vitamins that are great for your teeth and your gums. Other crunchy vegetables such as celery and carrots are also good because their texture allows for the removal of plaque on your teeth – a natural toothbrush for your mouth! Couple this with the stimulation of saliva when chewing, the plaque and bacteria are more readily washed away – your very own natural mouthwash!
Cheese, milk, low sugar yogurt, and other dairy products
Our teeth are made up of a variety of minerals that keep them strong and healthy. Calcium and phosphate minerals are found in our teeth and bones and are responsible for strengthening them. These minerals are also found in many dairy products. When we eat and drink, the drop in pH level in our mouths can cause acid-attacks onto our teeth and often these good minerals are lost. By eating plenty of dairy products, we are able to replace some of the lost minerals.
Nuts
Peanuts contain high amounts of vitamin D, calcium and phosphates. Nuts are packed full of vitamins and minerals that are great for both the teeth and your body. They also stimulate saliva flow which helps to wash away harmful bacteria.
Tea and Coffee
Polyphenols, antioxidant rich nutrients that are found naturally in tea. Polyphenols are effective against fighting off harmful bacteria and also reducing inflammation in our gums. By killing off the harmful bacteria in our mouth, they are unable to release acid or cause irritation to the gums that result in inflammation.
Meats and fatty fish
Chewing meats stimulate saliva flow, and an increased saliva flow in our mouth is a good thing. More saliva in our mouths means the harmful bacteria in our mouths are washed away.
Salmon, like dairy products mentioned above, contain loads of phosphate which are important for our enamel.
Water
It goes without saying that we should aim to consume 2 litres of water a day. Water is important for hydration of the body but great for cleansing our mouth. It acts to wash away any harmful bacteria but is important to maintaining our pH. After a sugary meal, the mouth's pH starts to decrease, becoming more acidic. By consuming water, we can help to neutralise this acid and restore it to a more acceptable level. Thus, reducing the time our teeth are in contact with acid which can cause tooth decay.
The added benefit of water is the added fluoride that it contains. Fluoride is shown to aid in the reduction of tooth decay by remineralising and strengthening the tooth.
Sugarfree chewing gum
We've been talking a lot about chewing and increased saliva and how it helps to wash away the harmful bacteria. Your salivary glands will start to secrete saliva as soon as you start to chew. This helps to aid in lubricating the mouth and moistening your food to allow you to swallow. The act of chewing promotes saliva production, and so having sugar free chewing gum which stimulates saliva flow can be very beneficial after a meal. As long as it doesn't contain any sugar of course!
Sugarfree chewing gum is great for those that are suffering from low saliva flow or dry mouth syndrome.
It's not easy to maintain a healthy diet, so it is always important to try and be balanced with what we consume. Of course, it is vital that we know which foods we should stay away from where possible. Everything in moderation is great, but when we give in to our temptations, our teeth may suffer as a result.The sometimes foods:
Chocolate and lollies
Sweet treats such as chocolates and lollies tend to be very sticky and love to live in the nooks and crannies between our teeth or in the grooves. Unfortunately, they can be quite difficult to remove and can often overstay their welcome. Sweets are also are high in sugar and are easily ingested by the harmful bacteria in your mouth, increasing your risk of tooth decay!
It is important to note, when we do have a small indulgence, it's best to go for something that won't be too sticky and clear your mouth as quickly as possible.
Starchy foods
Bread, rice, pasta, oats and potatoes are high in carbohydrates. The bacteria in your mouth love to feed on these carbohydrates and cause damage to your teeth through their acidic by-products.
Starchy foods can get stuck in between the crevices of your teeth. It's best to try and rinse your mouth out with water shortly after a meal to help flush out any food debris that is left behind.
Where possible, try to aim for whole wheat breads which contain less sugars.
Soft drink
It goes without saying that carbonated drinks don't play nicely with your teeth. Carbonated drinks contain added sugar along with acids that wear your tooth enamel away.
Try to drink through a straw when consuming soft drinks, this reduces the contact time on the teeth and reduces your risk of tooth decay. Furthermore, try not to swish your favourite soft drink in your mouth.
Some people will sip on drinks throughout the day, this is not recommended because the intake of sugar and acid into the mouth is more damaging to the teeth than consuming your drink in one sitting. This is because your mouth stays more acidic for longer as you are replenishing the sugar and acid with each sip.
Alcohol
Did you know that alcohol causes dehydration? A dehydrated mouth lacks saliva, which is important in flushing away food debris stuck on our teeth. Saliva is also important for repairing our enamel and thus preventing tooth decay.
Wine is tannin rich which is responsible for that red-purple stain on our teeth. It's important to try and rinse this off with water after a glass of wine. Try not to run to the bathroom and start brushing your teeth. The acid present on your teeth after consuming food/drinks lasts for up to 30mins, the effect of brushing your teeth immediately can further damage and wear away your much needed enamel. A glass of water or two is more than enough to help your teeth
At True Smile Dental Marrickville, we can identify early signs of acid wear on your teeth upon examination. Regular x-rays help us to detect early signs of tooth decay in-between your teeth. Book a check up today by giving our friendly team a call on (02) 7228 7272 or visit us at 235 Marrickville Road, Marrickville NSW 2204.